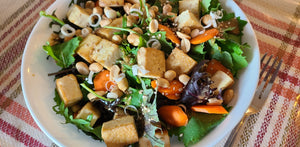 Salad for the Win!
"Hey, let's have a big lettuce-only salad for lunch!" Silence. "I said, doesn't that sound good?" Some more silence.
"My favorite food is straight, raw spinach. The flavor! I mean, what more could you ask for?"
"Raw broccoli is sooooo yummy because I just love that tasteless, dry crunch to it!"
These are all slightly ridiculous statements, but they cause me to think, why is it that so many people love salad, or hate salad?

The truth is, we don't have to hate salad! Now I know that blew some of your minds and while you're picking yourself up off of the floor, I'd like to share some steps towards making the best salad that you've ever eaten—hands down!

Tip #1 – Use the best farm-fresh greens you can.
For one thing, it does matter what kind of salad greens you have on hand and whether they're fresh & full of flavor or not.

But the thing that sells me the most on thinking whether a salad is exquisite or not is the salad dressing and other salad components. Afterall, who said you have to eat straight, raw spinach until it's coming out your ears, or plain lettuce until you never want to see a leaf again, or raw broccoli like it's the only thing on sale?
Tip #2 – Have a healthy, simple, tasty dressing.
Even if it's just greens, I can eat a whole pile of kale if I love the salad dressing. A tip towards finding a dressing that works for you is to think of what kind of food you really enjoy eating. For me, I absolutely love Thai food! The other day I convinced myself that I should be eating more greens and in order to stuff that kale down, I wanted a yummy dressing to go with it.

Don't overwhelm yourself with a 32-ingredient salad dressing with 1/8 tsp of lemon juice or something like that. Just throw a few of your favorite simple ingredients together. Look online for some ideas.

I ended up making a very simple variation to Pad Thai sauce (only 4 ingredients) and pouring it over my kale leaves. This dressing made it taste like no salad I'd ever eaten—in a good way this time–and I loved each delightful forkful of my salad that day!
Tip#3 – Add some other yummy items
Having yummy components add so much to the texture, variety, and flavor of my salad. I love tofu, in any way, shape, or form, so I seared some in a little bit of olive oil on the stove, and then tossed that in. I added some sliced carrots, fresh garlic, peanuts, and sesame seeds (just for the looks because why not?).
After I finished making my gourmet salad I brought it to the table, my family's eyes watching it longingly. I proceeded to eat every leaf of salad in my bowl! I can't even describe how much I enjoyed eating it!
Did you know there's even benefits of eating salad after you've eaten it? I felt so great and had a lot of energy and positive thoughts, knowing I had just eaten something that was very healthy for me.

My stomach felt great and I had a wonderful rest of my evening. No more sick, "hopefully I didn't gain any weight, oh dear that was a lot of food," thoughts for me!
I'm worried you're thinking, "Yeah this sounds nice but I'm just out of good ideas and options."

Don't worry, we've created a go-to list of salad ingredient ideas for you! The coolest thing about salads is that they can all be different! It's like having a mix-matching wardrobe. Most of the ingredients can be used in different combinations. We'll leave it up to you to discover your own, "best combination."

Once you've discovered this, feel free to post on Facebook and tag our farm, saying that you tried the "Salad for the win!" challenge.
Yummy Salad Ingredient Ideas
Spinach
Arugula
Lettuce
Salad Mix
Pac Choi
Baby Kale
Carrots
Cucumbers
Tomatoes
Celery
Cranberries
Raisins
Fried or Broiled Tofu

 

Nuts (walnuts, peanuts, cashews, almonds)
Seeds (sunflower, pumpkin, sesame)
Onions or Green Onions
Garlic
Oil
Lemon Juice
Herbs (basil, oregano, dill, rosemary)
Nutritional Yeast (sprinkled on top)
Enjoying every bite,
Lana & Lynae
---