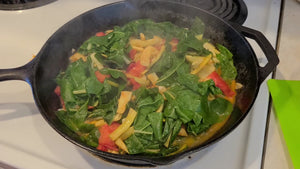 How to make a stir fry dish from scratch...it's this easy!
I love stir fried veggies!  I grew up in Asia and so I have a taste for Asian food.  And what a fabulous way to use up my odds-and-ends of veggies in my refrigerator. 
One of the veggies are Dragon's Tongue beans. And what are Dragon's Tongue beans?  This is a Dutch heirloom bean.  They are flat, yellow with burgundy stripes and have a lovely flavor just like our green beans.  When you cook them, they turn all yellow.  Just use them like you would green beans.
Are you ever afraid to try new things?  You are not alone.  Often times our brain will give us thoughts that don't serve us very well and it can keep us from experimenting in the kitchen. 
We worry that maybe it won't turn out.  Maybe my family won't like it.  Maybe I don't have the right ingredients.  Well, just get brave and tell yourself the truth.  Yes, a glitch can come up, but you'll get better at it the more you do it.
Click here to watch this little how-to video to help give you some inspiration!
---